Parking Lot Paving
Easy parking is a legitimate concern for many drivers. Without a safe, convenient parking lot, you could be deterring a lot of people from shopping at your store or visiting your facility. But it doesn't have to be that way. To help you provide the ideal parking accommodations for your commercial property, Capital District Services is ready to assist with parking lot paving of all kinds. Whether you need resurfacing, repairs, or parking lot services from the ground up, I'm right here in the Troy area to answer your needs. The condition of your parking lot is far too important to put off any longer. Call or e-mail me today to get started on your parking lot paving service!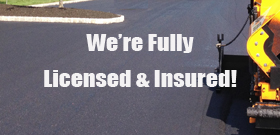 At Capital District Services, I'm pleased to cover the entire spectrum of parking lot services for commercial customers. Depending on your specific requirements, my parking lot company can provide you with professional expertise for:
Designing parking lots
Parking lot paving
Repairing holes and cracks
Resurfacing and sealcoating
Striping and installing signs
Speed bump installation
Curb installation
And more!
Since parking lot construction needs can vary widely from one business to the next, I make a point of getting to know my customers at Capital District Services. After all, the better I understand your parking lot paving issues, the more thoroughly I can carry out your parking lot installation and repairs. No matter what shape your existing parking lot is in, my licensed and insured team of parking lot contractors can restore it to pristine condition. If necessary, I can also oversee your entirely new parking lot construction project. All work is guaranteed, so you can rest assured that your parking lot paving will be done with complete care and precision from the first step to the last.
Your One-Stop Parking Lot Construction Company
When you're seeking a Capital Region parking lot contractor, you can't go wrong with the licensed and insured pros at Capital District Services. With two decades of hands-on experience, my parking lot pavers can attend to each aspect of your parking lot construction, including designing, paving, repairing, painting lines, and anything else your project requires. I'm happy to tailor my parking lot services to your individual property, putting the finishing touches on handicapped spaces, curbs, and whatever else the job entails. I offer the total package for parking lot paving service in the greater Troy area. Get in touch with me today via phone or e-mail!
See why Capital District Services is rated A+ by the BBB. Set up your appointment now with my proven parking lot pavers!
paving parking lot
parking lot paving company